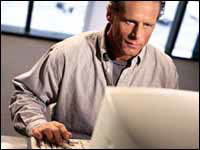 Have you ever had a question and either didn't know where to find the answer or were too afraid to ask? If so, you've come to the right place.
As the name would suggest, this section is a compilation of answers to the questions our clients commonly ask. Just start by following one of the links below.
If you think of question that is not on this list, please click on "Ask a Question" and let us know what you're thinking. If enough people ask the same question, we'll post the answer in this section for future visitors.
How long does it take for you to fill my order?

Most of our materials are stocked in inventory, and can ship within one or two business days. A few items are built "custom" for each client, and that may require an additional day or two. Let us know when you need your manuals or DVDs, and we'll let you know your shipping options. We go to great lengths to meet your most stringent demands.

Well, since you are here, we would suggest you use our online estimate request form. Otherwise, the best way to ensure that we get all the information necessary to do an accurate quote, give us a call and talk with one of our customer service representatives.